Try these if high-fat foods are a heartburn trigger for you.
If you suffer from frequent heartburn (which is when you get it two or more days a week) you're probably eager to do anything you can to help prevent it. And since certain foods can often bring on symptoms, many people start by tweaking their diet. The specific items that trigger heartburn can vary from person to person, but one category that might be to blame is high-fat foods. As an alternative, the American Academy of Family Physicians recommends trying to eat meals high in protein and low in fat. Keep reading for some recipes to get you started—and while you're still dealing with your frequent heartburn, consider taking a medication like Nexium 24HR once a day (for 14 days), which protects you from its symptoms all day and all night.
Meat
When you think of protein, meat is likely the immediate go-to. While some cuts can be high in fat, these meat recipes feature leaner picks, like chicken breast, turkey, and pork tenderloin.
Sautéed Chicken Breasts with Creamy Chive Sauce: Boneless, skinless chicken breasts are usually the go-to lean protein, but they can end up tasting dry if you aren't careful. Not so in this recipe, which has 26.3 grams of protein. A sauce made from reduced-fat sour cream and chicken broth adds moisture and flavor without overdoing it on fat.
Mediterranean Chicken Quinoa Bowl: As a grain, quinoa packs a protein punch: One cup has more than eight grams of it. Mix the quinoa together with chicken breasts, roasted red peppers, seasonings, and some olives and feta to make a work lunch that provides a total of 34.1 grams of protein.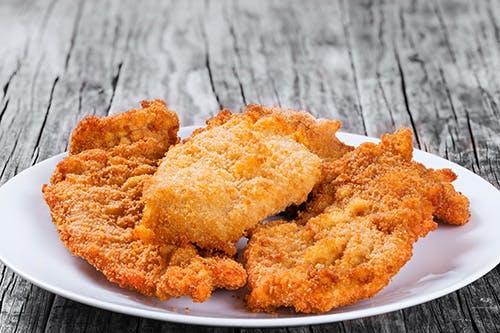 Pecan-Crusted Chicken: Craving fried chicken? Go for this leaner version, which gets as much as 25.8 grams of protein thanks to both the chicken breasts and the pecans they are coated in. Finish off by pan-searing in a little bit of canola oil for a crunchy healthy entrée.
Rosemary Roast Turkey with Vegetables Turkey is another great lean protein option (this recipe has 33.5 grams of protein in it). What's so great about this dish is how easy it is to make; just toss the turkey, carrots, potatoes, and onion into the slow cooker and let it do all the work.
Apple Turkey Picadillo: This leaner twist on a Cuban classic is delicious over some rice (or quinoa for more protein!). It hits all the flavor notes from sweet to salty, sure to please everyone at the table. And it has 23.8 grams of protein!
Moroccan-Spiced Chicken Lentil Stew: Skinless, trimmed-of-fat chicken thighs and lentils both add up to 32 grams of protein to this stew, while seasonings like cumin, coriander, and cinnamon make it delicious.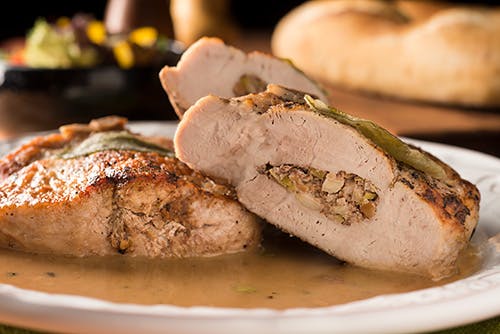 Pork Tenderloin Stuffed with Porcini Mushrooms: When people think of pork, their mind tends to go to fattier cuts like bacon and ribs. But don't forget about the pork tenderloin, which is much leaner, (and in this recipe, it offers 24.5 grams of protein!). For this dinner-party-worthy recipe, you fill it with porcini mushrooms, garlic, sage, and thyme before rolling up and roasting.
Mustard-Maple Pork Tenderloin: Mushrooms not your thing? Try this simple pork tenderloin dish instead, which gets topped with an easy sauce flavored with mustard, maple syrup, and fresh sage. Plus, it has as much as 23.8 grams of protein to keep you full.
Fish
If you don't eat meat, fish is another great option for protein. Fish also contains other nutrients like omega-3 fatty acids, and some types like salmon and swordfish are good sources of vitamin D, too. See below for recipes that feature, cod, salmon, and more.
Poached Cod & Green Beans with Pesto: There's nothing better than a meal you can make in one dish, and this fish dinner is exactly that. Flaky, protein-rich cod (25.8 grams of protein to be exact in this dish) will become a regular rotation in your home.
Spring Salmon en Papillote: Fresh, skinless salmon gets cooked in paper with assorted vegetables for a delicious meal that offers 36 grams of protein. Not into salmon? You can make this recipe with halibut, instead.
Fish and Vegetable Soup: Here's another one-pot dinner that's great for weeknights. Combine fish with vegetables for a soup that's high in protein (20.5 grams) and ready in under an hour.
Vegetarian
Protein can be found in other sources that aren't limited to meat or fish, like beans, lentils, and chickpeas. Legumes are also high in fiber and offer other nutritional benefits like iron and potassium. Here are some recipes to get you started.
Black Bean Tacos: Beans are a great meatless source of protein and are perfect for your next Taco Tuesday. (These tacos have a whopping 15.4 grams of protein!) But what's even better? You'll have this meal on the table in only 15 minutes. (Leave off the salsa if tomatoes are a trigger food for you.)
Tuscan White Bean Soup: For a healthy meal on a budget, consider this white bean soup. Not only does it have 14.7 grams of protein, but it's a great comfort food option for cooler days.
Curried Lentils and Vegetables: Lentils are another great protein-rich source for vegetarians, and this recipe will give you 25.1 grams of it. Here, lentils get combined with ginger and garlic and topped with yogurt. Pair it with rice and you have yourself a delicious dinner.
Get more great health and wellness stories at EatingWell.com/Strive.
© Meredith Corporation. All rights reserved.